posted by Jen
J. Hershey Building Consultants are on-site today performing a water infiltration evaluation at this high-rise building in the heart of Lincoln Park in Chicago!   Three units within this building are all experiencing a similar issue.
Property Managers regularly use J. Hershey Building Consultants as an expert source on solving water infiltration issues for community associations.  Our detailed, non-biased opinions, give Property Managers the steps necessary to correct the issues which other professionals and contractors are unable to solve.  We currently have a 100% track record in solving these issues and as always, if a J. Hershey staff member is unable to determine the source of your water infiltration problem there is no charge for our service!
Give Jen a call today at 844-543-7743 or jk@jhersheygroup.com to discuss project needs at your Association!
posted by Jen
The February issue of The Blue Print is now available to read.  This issue highlights happenings at each of our companies including the completion of a J. Hershey Architecture designed 6,000 square foot salon and spa in Middleburg Height, Ohio!  Our J. Hershey Building Consultants team has been busy performing reserve studies and building evaluations which has lead into the preparation of specifications and drawings for capital improvement repair projects scheduled for this spring and summer.  This issue also features progress updates on the four J. Hershey Design Build homes currently under construction throughout northern Illinois! Check out the link above and give us a call today at 844-543-7743 to discuss all your project needs!
posted by Jen
The J. Hershey team brought lunch to a northern Illinois property management firm this week and presented a seminar on Roof and Attic Issues within Community Associations.  This seminar was good for (1) CEU Credit for Property Managers with the CAM designation! We currently have (4) seminars approved by the Community Association Management International Certification Board (CAMICB), each one is worth (1) Continuing Education Unit.   Give Jen at call at 844-543-7743 or email jk@jhersheygroup.com to schedule a seminar at no cost to you!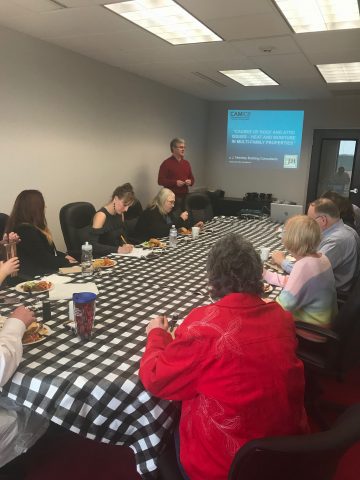 ---
This weekend we will be attending the Community Association of Illinois' 36th Annual Condo-HOA Conference! Stop by our Booth #116 Friday or Saturday to learn more about the variety of services we can offer to Community Associations as well hear about our Lunch and Learn opportunities.  We look forwarding to see you!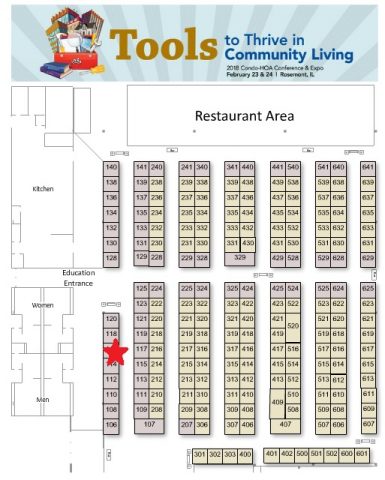 posted by Jen
J. Hershey Building Consultants offers 6 FREE seminars per quarter for Property Managers to get their CEUs.  Each course is held in YOUR office and is certified through CAMICB.  We've already held 5 sessions in 2018!  Contact Jen at 844.543.7743 or jk@jhersheygroup.com to schedule your session.  Below are images from recently completed CEU Seminars in Illinois and Ohio!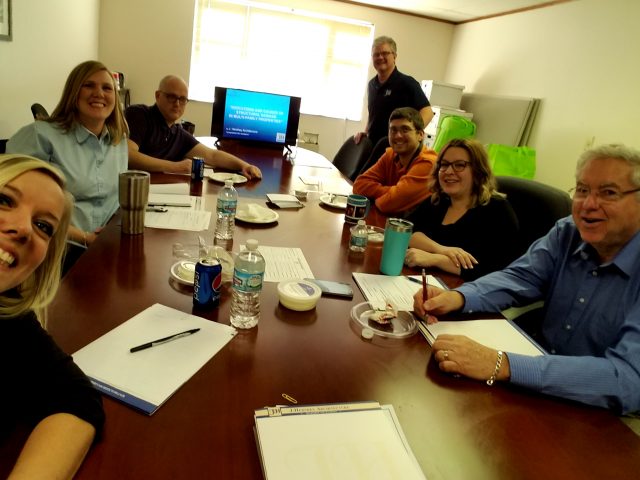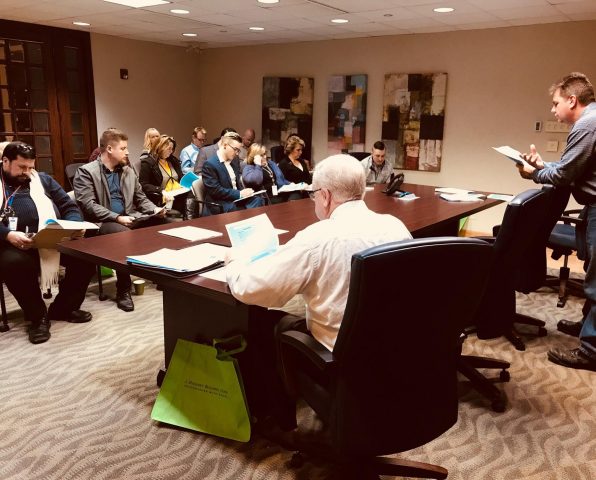 posted by Jen
Click HERE to read the January 2018 issue of The Blue Print!  J. Hershey is now comprised of three distinct companies, each of which is featured in this issue along with our new website and phone number!
posted by Jen
Our September issue of The Blue Print is ready for viewing! Do you know what sets J. Hershey Architecture apart from our competitors? Check out our "Association Projects" section below for some insight! This issue not only highlights our Association projects but also some great design projects our Team is currently working on.
posted by Jen
It is that time again where Community Association Boards and Property Managers begin to think about their budgets for next year.  A great article came out recently in the Chicago Tribune talking about the importance of making sure your yearly Association budget is done correctly. It is hard to have an accurate budget without a current Reserve Study! Email Jen today at jk@jhersheygroup.com to request a Reserve study Proposal or a Sample Report!
posted by Jen
We are currently designing repairs to the stucco privacy wall for an Association as shown below in Pennsylvania. The wall stretches approximately 900 feet. Along with the privacy wall repairs we are also redesigning one of the drive entries to include reworking the ingress/egress, adding a "faux" gate house with electronic powered gates and re-configuring the road pavement.
posted by Jen
The low slope roof sections at the property shown below were recently re-roofed and unfortunately it now has more leaks than before. We were asked for our expert opinion to evaluate the cause of the current leaks. Note: Unfortunately, professional specifications and construction oversight were not performed prior to our involvement as is often the case.
posted by Jen
Are you a Property Manager needing CEU credits but do not have the time to travel somewhere for a class? What if we could bring the class to you? J. Hershey Architecture is certified by CAMICB to provide 1 CEU Credit for Property Managers on the topic of Water Infiltration or Reserve Studies. We can come to your office and present a one-hour Lunch and Learn, afternoon break, or breakfast seminar at a time that works for your entire Team at no cost to you! Pass this on to whoever in your office oversees scheduling office events and have them call 847-549-5900 or email Jen at jk@jhersheyarchitecture.com to schedule. It's that easy!