For many of us, this part of our calendar finds us planning out what we can or should tackle in the coming year. These planning conversations are better if they are informed by a fairly recent reserve study. Otherwise, a board risks using an outdated needs list or even prioritizing pet projects, whether consciously or not.
This planning task is even harder for a board that is accepting transfer of property management from a developer. The hope is that the property would have little or no obvious needs, but without a transition study the new board is moving forward with fixes that should be funded by the developer and are uninformed on what needs the next 5 – 10 years might hold.
See below for a some examples that may have been avoidable or easier to plan for if these boards had the benefit of a transition study.
***We at J. Hershey Group wish you all health and happiness in 2023!**

Avoidable Balcony Repair
J. Hershey Building Consultants recently worked with a property needing balcony assessment and repair. The balconies were not very old and were already rotting. Our evaluation uncovered lack of a transition study, which could have identified issues earlier and saved the board this particular expense. In addition to inferior use of materials, these balconies were not built to code, and importantly had insufficient support for the front rail.
Below left is an example of the "before" balcony showing long stretch of rail needing additional support. These balconies were redesigned to be replaced with improved support and used composite materials. Below right shows a completed balcony example used to get village approval before proceeding.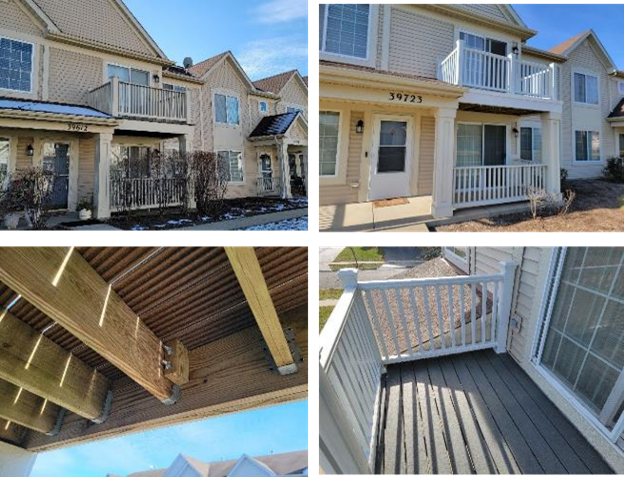 Above left shows the front center newel post fastened securely to the balcony structure. Above right shows the new composite material and addition of posts at the wall where earlier the sides simply screwed into the building. Happily, this property now has balconies that are safer, to code, and built to last.
J. Hershey Building Consultants regularly work with local municipalities governing building code requirements on behalf of their clients. This helps the board make sure work abides to code and helps the construction company get the approvals they need.
Inadequate Guardrails Present a Life Safety Concern
J. Hershey Building Consultants completed a reserve study for a fairly new development located on beautiful wooded land with hills. The site visit revealed what we consider to be inadequate deterrants over high retaining walls in multiple places. If this board had the benefit of a transition study many of these issues would have been identified for the developer to address prior to transitioning management to the board.
The picture below left shows a retaining wall that is already starting to fail, likely due to lack of weep holes to allow water through. Below right shows fencing meant to be a deterrant but the distance between fence posts is too far to prevent the fence from folding over.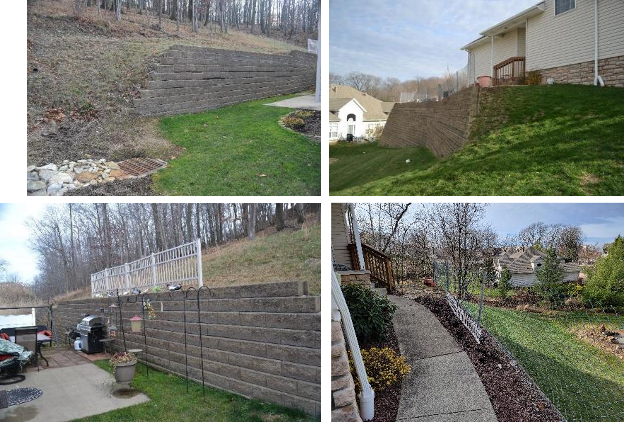 Above left picture fencing atop the retaining wall that should span the full length of the wall. Above right is yet another example of fencing used. This fencing needs more post supports or it will simply fold down.
We perform Reserve and Transition Studies on all sizes of community associations from single family HOAs to high rise condominiums and every residential building type in between.
What is Wrong with The Picture Below?
Let's continue to improve our ability to spot property needs!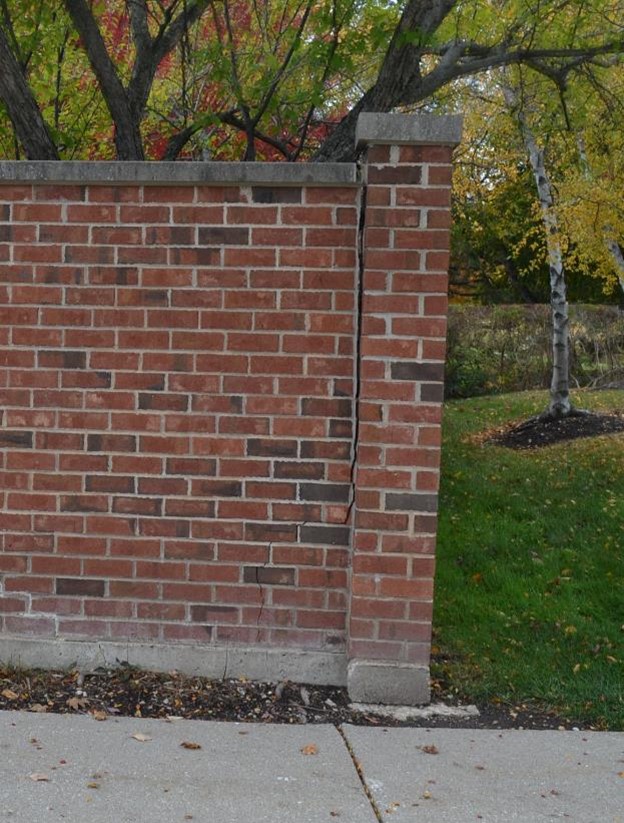 Answer: End pillar is separating from main wall, likely a result of inadequate reinforcement. Long/tall brick walls require more structural support. Otherwise, wind or ground movement stresses on the wall will cause separation, which will only get worse over time.
Now is the time to complete your Reserve or Transition Study so you have an accurate and detailed funding plan to improve or maintain your properties. We perform Reserve and Transition Studies on all sizes of community associations from single family HOAs to high rise condominiums and every residential building type in between.