posted by Jen
Spring has sprung and the J. Hershey Building Consultants team is busy providing Project Management services for several large community association projects!  Project Management services include:
Providing construction monitoring to include in-progress site visits to review the construction status.  Site visits are followed with a written report that outlines the construction work performed, schedules, payment applications as requested, and issues that may arise.  We also provide contract administration to include answering questions generated from the Association, property management and contractors.
When you hire J. Hershey Building Consultants to provide all phases of work from the initial evaluation through project management this is the type of service you can expect….
"Initially we hired J. Hershey to determine the scope of work for our re-roofing project and write the specifications.  Your work was done in a timely manner and well detailed.  The bidding phase went smoothly, and your firm fielded various bidders' questions in a disciplined manner.  Also, your bid summary was comprehensive and assisted us in selecting a contractor. The construction went smoothly and finished on time.  Your firm performed timely site visits to verify workmanship, etc… and periodic payout requests were handled in a timely manner.  All in all, we highly recommend your services."
Property Manager
RealManage
The images below show various community association projects where we are currently providing Project Management services.  Please reach out to us today at 844-543-7743 or jk@jhersheygroup.com to discuss your upcoming project needs!
Balcony Railing Replacement Project
The top floor balcony shows the original railings and the lower balcony railings have been replaced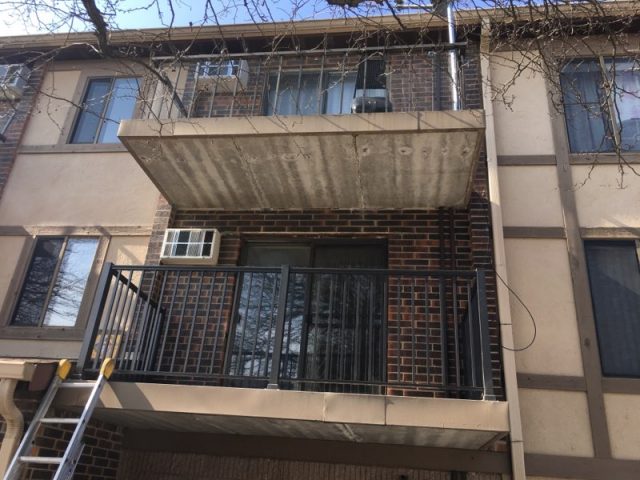 Roofing contractors are measuring for new custom metal flashing