posted by Jen
The J. Hershey Group of companies and its team members have an extensive knowledge of residential and commercial design, engineering and construction.  This allows us to provide our property management clients with a full range of services that many others do not offer. We offer this range of services to help simplify the efforts associated with the daily responsibilities of property managers.  Last week, we performed a site visit to determine the source of water infiltration into the first floor of condominium unit in Chicago, Illinois. Our site visit was followed by a written report detailing our findings complete with color photographs and an estimated cost of the proposed repair work.  Residential property managers regularly seek out our President, John Hershey, for his expertise in resolving water infiltration issues.  Click here to read an article on water infiltration written by John and published in the CAI Illinois Common Interest magazine!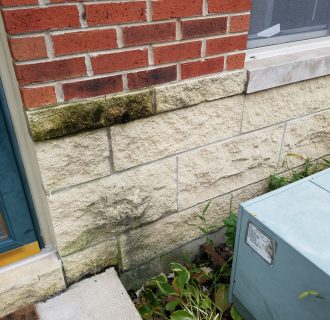 posted by Jen
J. Hershey Building Consultants recently performed an evaluation of the flat roofing on (3) 4-story buildings, as shown below, for a community association in northern Illinois.  The purpose of the evaluation was to determine the remaining useful life of the roofing.  We have the capability to perform evaluations on every site and building component issue that may be found on an community association's property. We perform evaluations related to site drainage, erosion, building settlement, structural cracks, underground parking garages, wall cladding, wood balconies, steel and concrete balconies, flat roofing, sloped roofing and flashings, ice damming, attic ventilation, water leaks and infiltration.  Give Jen a call today at 844-543-7743 or jk@jhersheygroup.com to discuss your building evaluation needs!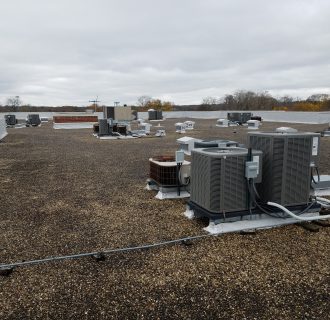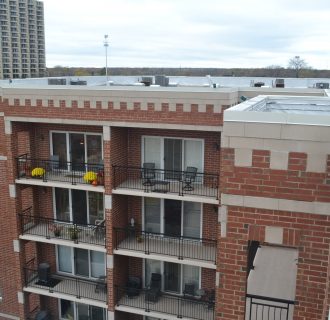 posted by Jen
The J. Hershey Building Consultant team is currently providing Construction Administration services for several projects.  Examples of these projects include a roofing replacement of (5) 2-story buildings containing (25) units and a masonry repair project for (12) single-story buildings containing (79) units.  Our services during this phase include in-progress site visits to review the construction status.  Each site visit will be followed with a written report that outlines the construction work performed, schedules, payment applications as requested, and issues that may arise. The J. Hershey Building Consultant will also provide contract administration to include answering questions generated from the Association, property management and contractors.  If your Association is considering taking on a capital improvement project in the spring of 2019, now is the time to hire the architect/engineering firm to evaluate the project, create the drawings and specifications and prepare documents to bid the project during the winter!  Contact us today at 844-543-7743 to discuss.
ROOFING REPLACEMENT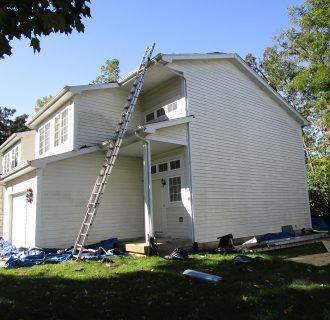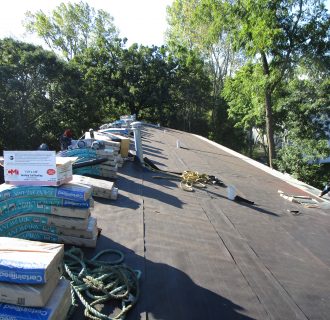 MASONRY REPAIR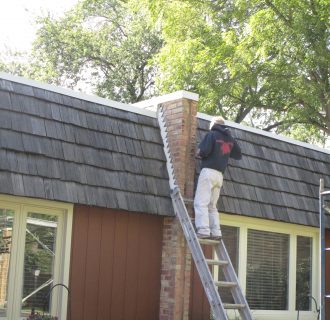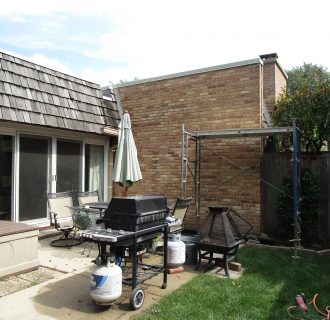 posted by Jen
We are pleased to announce that effectively immediately, John Hershey, President of J. Hershey Building Consultants, has been asked to serve as a Board Member on the Community Associations Institute (CAI) National Business Partners Council.  According to CAI, "The Business Partners Council represents product and services providers and professionals. The Council is made up of twelve members, with at least one person who is one of the following: Accountant, Attorney, Banker, Insurance Professional, Information Technology Professional, and Reserve Specialist. The Council provides input on policy matters to the CAI Board of Trustees, and serves as a key resource to staff".   John is a member of nine Community Associations Institute Chapters and regularly travels to CAI events throughout the country, guest speaking, networking and building relationships with property managers, association board members and business partners.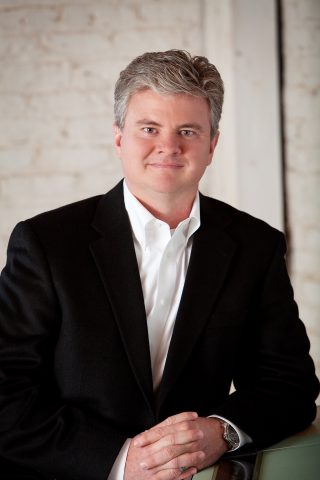 posted by Jen
J. Hershey Building Consultants visited the Association shown below to determine if windows replaced by a Unit Owner were installed according to the specifications we prepared.  Our site visit will be followed with a written report complete with photographs, detailing our findings.
We regularly perform site visits to Community Associations to determine if the work performed by a Contractor was in accordance to their contract with the Association.  We understand that Community Associations are always looking to save money, however, we have found that when our company is hired from the beginning to assist with specifications, bidding and construction oversight, our involvement could not only save the property manager's valuable time but also save the Association money that would offset our fees.
Please give Jen a call today at 844-543-7743 or jk@jhersheygroup.com to discuss your upcoming capital improvement project!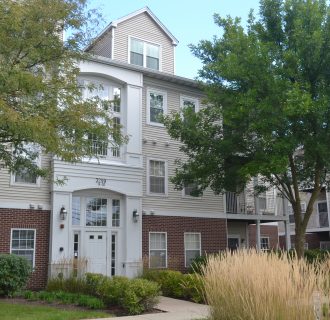 posted by Jen
J. Hershey Building Consultants are on-site today in Media, Pennsylvania, performing a Reserve Study for the Association show below.  These newly constructed buildings consist of (26) 3-story town-homes. The Association is responsible for maintaining the exterior of the buildings, rear parking spaces, site lighting and common area landscaping.  This Association is within walking distance to downtown Media and many of the units feature elevators!
With budget season in full swing there is still plenty of time for community associations to request and receive a Reserve Study proposal!  Lock in 2018 prices by having the Reserve Study approved at your 4th Quarter Board Meeting.  Give Jen at call at 844-543-7743 or jk@jhersheygroup.com to request a proposal.  You can also click here to fill out our easy-to-use online Reserve Study Request Form.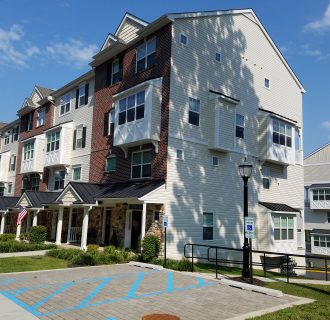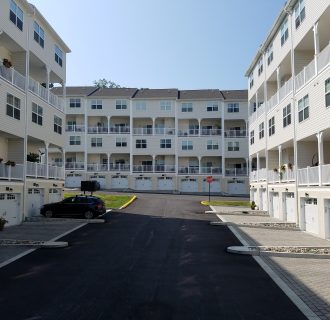 posted by Jen
Our August issue of The Blue Print features up-to-date information on current J. Hershey projects from a gutter analysis we will be performing in northern Ohio to the completion of a home renovation by our Design Build team in Libertyville.  We are also looking to hire a Licensed Architect or Engineer with Reserve Study experience, more information on how to apply can be found in the J. Hershey Happenings section!
The Blue Print by J. Hershey, August 2018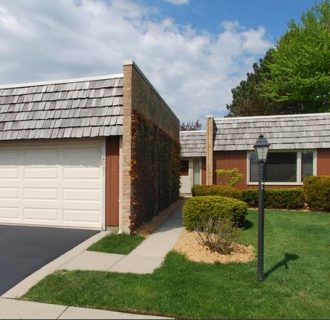 posted by Jen
We are looking for a Licensed Architect or Licensed Engineer with Reserve Study experience to join our J. Hershey Building Consultant's team!  This person can be licensed in any state and will have the opportunity to work on multiple projects within a short period of time.  Experience with production drawings and construction management is desired but is not a requirement and this person may work remotely from home or from one of our four office locations.  To apply please send resume and cover letter to John Hershey at jmh@jhersheygroup.com!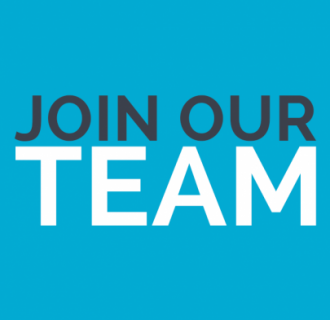 posted by Jen
The J. Hershey Building Consultants team has been busy in recent weeks working on projects in multiple states from Illinois to Ohio, over to Pennsylvania and down to Florida!  Click here to read our July issue of The Blue Print which highlights these community association projects along with beautiful images of the home the J. Hershey Design Build team recently completed in Libertyville, Illinois.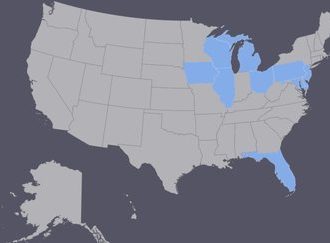 posted by Jen
Does your Association have a Reserve Study more than three years old or not have one at all?  As property managers and board members head into budget season now is the time to be reaching out to the experts at J. Hershey Building Consultants for your Reserve Study proposal.  Please click here for our easy-to-use online Reserve Study Request Form, call us at 844-543-7743 or email Jen at jk@jhersheygroup.com.
A Reserve Study site visit was completed yesterday at the Association shown below in northern Illinois.  This Association includes 1,055 single family homes and is responsible for maintaining a clubhouse, outdoor pool with water-slide, concession stands, tennis court, basketball court, sand volleyball court, playground, walking paths and more!  Additionally, recent Reserve Studies were completed by our team in Ohio, Wisconsin, Pennsylvania and Illinois.