Letter from the President
April showers bring…water infiltration woes. This is the time of year to focus on preventative maintenance that can minimize the potential for water infiltration. There is a grim reality to the value of cost avoidance that proactive maintenance measures provide compared to the high cost and resident dissatisfaction with repair work.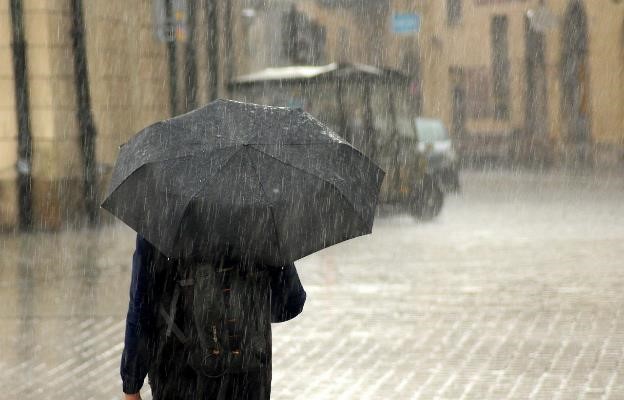 J. Hershey Building Consultants is proud of our success in helping many management companies identify the root cause of water infiltration issues. We also proactively include issue identification in our reserve studies and property assessments. We showcase our superior construction and maintenance understanding in our reporting, hence our "autographed with excellence" slogan.
As always, for all your consulting, design, construction and community association needs please do not hesitate to contact me at 844-543-7743 or jmh@jhersheygroup.com.
Sincerely,
John
John Hershey, AIA, NCARB, LEED AP, RS, CAI Educated Business Partner
"My satisfaction comes from solving complex issues and being the "go to" professional for our Clients' needs."
---

Water Infiltration/Forensic Property Evaluation
The pictures below are good examples of why advanced construction understanding and a thorough approach to any site visit is a hallmark of J. Hershey Building Consultants and a benefit to our clients.
Water has to flow across a structure, within a structure, and around a structure. The type of brick cladding below is very commonly used. There is an air space between the brick and the wall structure which allows water when it gets in (via cracks, mortar, etc) to flow down and exit via weep holes. In the examples below the water would have moved down to the overhead garage door (left) and the window (right), hit the flashing and wicked out between the lip of the flashing and the brick. Water that found an entrance would have also found an exit. However, in these examples the space between the lip of the flashing and the brick was caulked closed. A common mistake, but one that will trap water in between the brick and the interior wall, leaving the water to find another way out and likely leading to interior wall damage.

Another example is shown below to highlight the need to pay attention not only to the path of water, but to the rate of movement. The garage roof below is likely ponding because there is debris blocking the drain system. Note the tree overhanging the garage, which is an attractive feature, but does mean the roof drain will require more frequent cleaning to ensure water can drain easily. Excessive ponding shortens the useful life of any roof.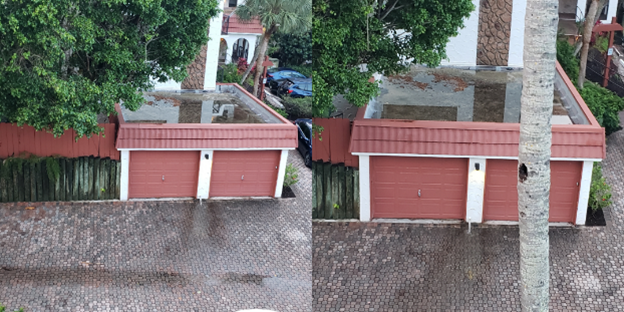 Below are examples where we have proactively flagged poor ground waterflow. In the left picture the swale is still intact, collecting water between the houses so it moves away from foundations in that area. However, the garden feature prevents water from flowing out toward front yards. The second picture shows the absence of a swale, and a sideways slope down toward the foundation.

J. Hershey Building Consultants has helped many clients understand their water infiltration issues. We can observe these situations as part of a full Reserve Study or as a separate inspection. Our site visits are followed up by a written report detailing our findings and recommendations for repair.
Reserve & Transition Studies
J. Hershey Building Consultants fully understands the importance of water movement and ground maintenance to presenting an attractive property which stabilizes and even builds property values. Our reserve studies routinely include a thorough inspection of the grounds and exterior beyond residential structures. Many properties now include a retention pond to offset loss of ground to absorb water as a result of building. The perimeter of the retention pond below is not adequately edged to prevent erosion. Over time sediment build up in the pond will require costly dredging. If the shoreline is finished with a stone riprap, the pond will be more attractive and erosion will be prevented, maintaining property value and reducing risk of future costs.

Continuing our examples related to water movement through property, below are examples of storm drain placement. Inspections to ensure water flows well through the property is essential to avoid standing water issues. These storm drains are from left to right; positioned too low, too close to a mulched landscaped bed, and in concrete without adequate control joints. These conditions which will require extra maintenance can easily be avoided. J. Hershey Building Consultants regularly flag opportunities to reduce or avoid maintenance issues in addition to identifying maintenance to plan funds toward.

Below are examples of asphalt in need of attention. Pavement settlement and heaving are issues which contribute to safety and liability concerns. We often assist communities with the engineering documents for pavement repairs which need to consider the resident experience during maintenance, safety, and potential phasing of repair in keeping with the reserve budget.

Contact us today at 844-543-7743 or simply fill out our online Reserve/Transition Study Request Form. With budget season right around the corner, now is the time to complete your Reserve or Transition Study so you have an accurate and detailed funding plan. We perform Reserve and Transition Studies on all sizes of community associations from single family HOAs to high rise condominiums and every residential building type in between!

Fortunately, there were no serious injuries when cars drove into these buildings. The accidents did present unique structural considerations vs the more usual renovation project. J. Hershey Architecture can provide timely analyses and structural designs for the necessary repairs and permitting for your restaurant, home, or townhome.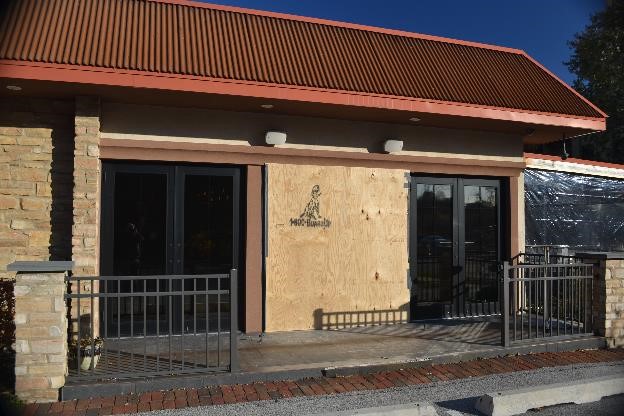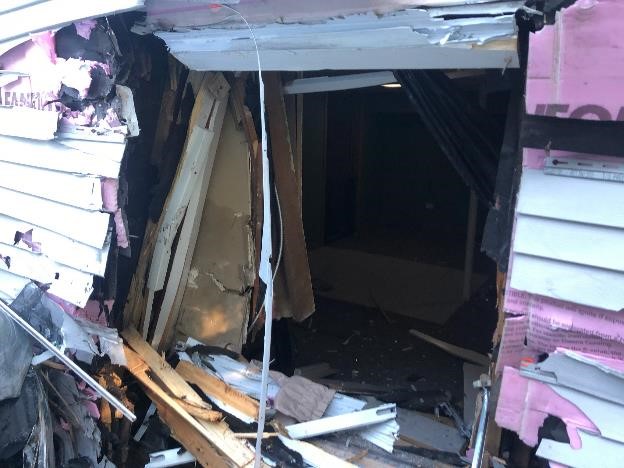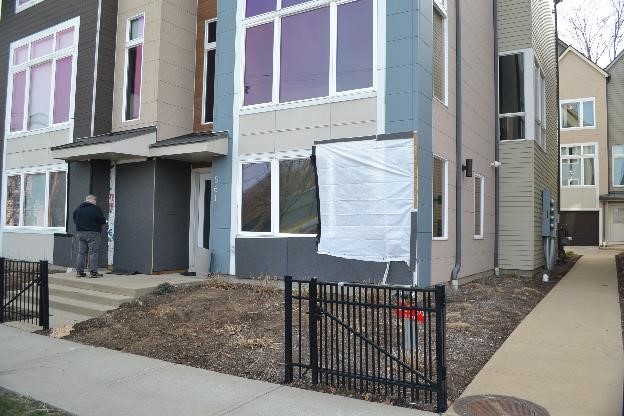 While we certainly hope these situations remain rare, we offer the expertise and understanding to help clients with atypical structural issues.