Water features on properties create visual beauty, convey openness and space between dwellings, and of course can deliver important functional benefits related to water movement and capture. These benefits do not come without maintenance and safety concerns that, if left ignored, can create extensive issues related to cost and life safety. We have assessed properties across multiple states with varying sizes of water bodies. Please read below for our most commonly identified opportunities for improvement.


Storm Drain Openings Should Have Grates That Allow Proper Water Flow
This is a situation where we really are trying to avoid disaster. Storm drains lacking any kind of screen or grate present life safety hazards. Even the grating in the top right picture below is an improvement but still not optimal to prevent a small child from accessing the drain. Ideally drain covers would look more like the photo in the bottom right which clearly allows water flow and better safety.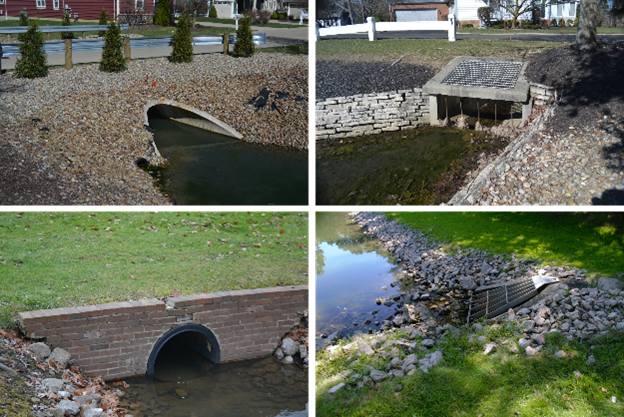 In addition to basic life safety, the addition of inlet protection to these drains should be considered to help with silt management, because that carries added benefit of controlling sediment and silt flow into the waterways, which enables better ongoing performance of water level management on the property. There are covers specifically designed for this purpose.
Retaining Walls Should Have Guardrails
Retaining walls are frequently employed to transform a slope to a flat area or to contain erosion. These features are very common across all types of properties. At a certain height these walls should include either guardrails or deterrent plantings such as hedges or bushes to prevent falls.
While both walls below are visually attractive, the wall on the right as a hedge which adds safety.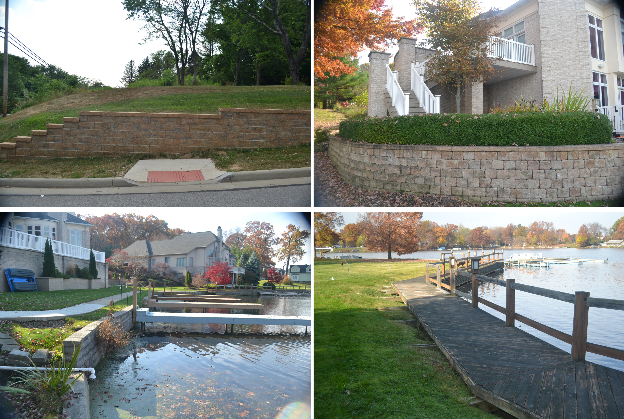 Walls around bodies of water are especially hazardous as it is natural to want to peer over into the water at any age. The picture above right shows a fence which, while optimally would have smaller spacing, does add a deterrent to potential falls into the water below.
Ponds and Lakes Should Be Edged to Prevent Erosion and Increase Safety
Erosion into a pond or lake can throw off the balance of water nutrients which can result in an unsightly algae bloom. Erosion can also clog waterways and prevent rainwater from draining in time, causing flooding. Either stone rip rap or deep rooted natural plantings can maintain shore integrity and discourage easy access to the water.
The photo below on the top right shows stone rip rap lining a storm drain swale to a body of water. Stone controls erosion and deters children from walking or playing near the water as stone is not easy to walk across.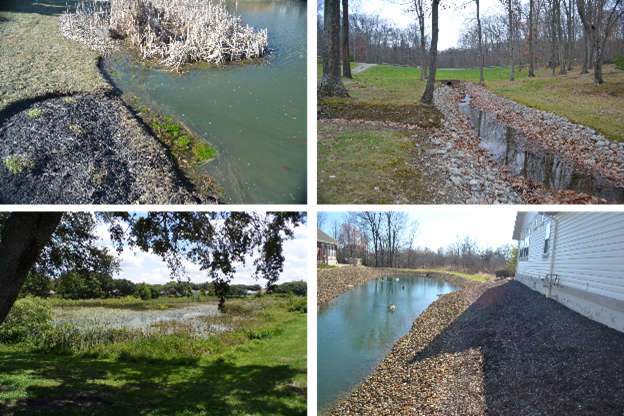 Maintenance planning for bodies of water on community property, of any size, should be as relevant in property management and reserve planning as evaluations of building structures. The entirety of the property should be regularly assessed, maintained, and improved.
J. Hershey Building Consultants has the expertise to evaluate community properties in their entirety: internal and external review, water movement and containment, roadways and pavement. Our focus is always on a quality solution that minimizes cost and homeowner disruption while protecting property value.

While it may seem like red tape, permits and building codes are meant to keep us safe. Not having a permit before work begins can lead to a host of problems which can include having the city request work done be removed. J. Hershey Architecture has been engaged often to help get building and repair work on the right side of the law. Some examples from the past year:
J. Hershey Architecture spoke to a municipality on behalf of an association to accelerate the permit process so construction could begin.
When balcony repairs were performed without drawings and a permit we successfully coordinated with the local building department to provide balcony repair documents for permit.
In a similar situation, masonry privacy wall repair work was done without a permit. J. Hershey Architecture coordinated with that local building department to evaluate work and provide documents which resulted in a post facto permit.
There are also many occasions when J. Hershey Architecture h as worked on behalf of Associations with local municipality and influenced those building departments regarding existing code to the benefit of the client:
J. Hershey Architecture pointed out national building code requirements to a city building commissioner which resulted in interpretation changes regarding roof insulation requirements. This benefited a client who otherwise would have had to modify roof insulation work.
When the retention ponds in a community association were not draining properly, J. Hershey Architecture ultimately determined there were blockages in the storm drain, met with local planning officials and pointed out this was the city's responsibility. The city cleared the drains at their own expense.
We are proud to offer this expertise to our clients. You'd be surprised how often this understanding is needed!